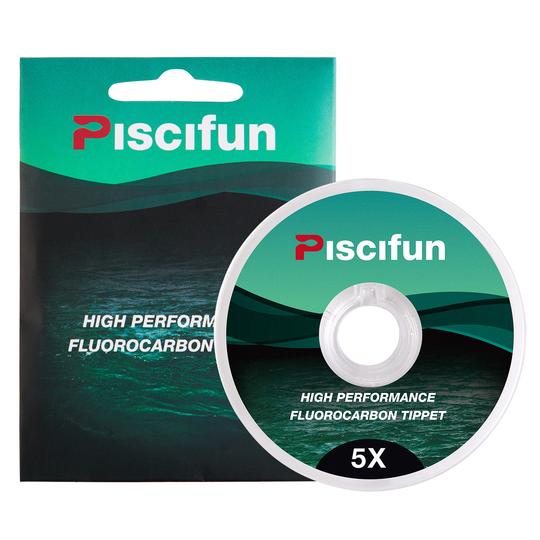 Fluorocarbon Fly Fishing Tippet
Sold out
Original price
$9.99
-
Original price
$14.49
The Piscifun Fluorocarbon fly fishing tippet material provides high strength and abrasion resistance, low underwater visibility, and excellent knot strength for fishing in situations where extreme stealth is required. Knots easily to monofilament. Available in 33-yard spools in diameters ranging from 0X to 6X.
STRONG & DURABLE - 100% fluorocarbon fly tippet material - Up to 15% stronger than nylon material. Significantly more dense than nylon basically impervious to water. None of its physical properties change after a prolonged soaking without damage.
LOW VISIBILITY - Refraction index close to water, makes this tippet nearly invisible to fish. Since the refractive index of fluorocarbon is closer to that of water than is the refractive index of nylon, fluorocarbon is theoretically the less visible material when immersed in water.
FASTER SINK RATE - Faster sink rate for less water resistance. Helping your fly to the bottom quicker without adding extra weight, thus you get a more delicate presentation.
EXCELLENT ABRASION RESISTANCE -The surface of fluorocarbon monofilament is harder than that of nylon, making it substantially more resistant to abrasion. For the money, you get what is over its value.
KNOTLESS - Perfectly-balanced blend of elasticity, knot strength and suppleness.