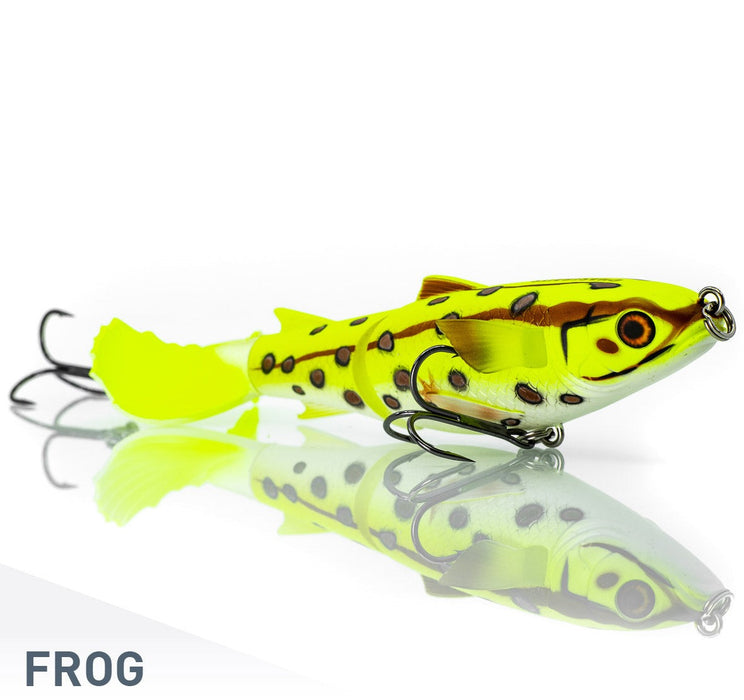 Drunken Mullet Propbait
Sold out
Original price
$14.99
-
Original price
$14.99
Size: 3.74"
Weight: 0.7oz
Action: Top Water Segmented with Offset Pop Tail
The DRUNKEN MULLET combines the best attributes to create multiple actions that fish can't resist.
On the slow retrieve the DRUNKEN MULLET looks like an exhausted fish on its last legs or like its just consumed a bottle of rum staggering home from the pub. The unbalanced 'Pop Tail' and body segments combine to give it that unique dying/drunk action that will remind you of last Saturday night.
As you retrieve it faster the body will turn on its side and the tail will give off that famous slapping noise that fish absolutely love. 
The DRUNKEN MULLET can be used in many ways with a great water slap and a drunken/dying body wobble that will become another serious weapon in your fishing arsenal.
What is the Drunken Mullet made from?
The Drunken Mullet is made from hard plastic. It does have soft side fins, and a soft prop tail.

What species does this lure target?
Chase any freshwater or saltwater species that feed on the surface, such as all Bass species, Snook, Tarpon, Redfish, Muskie and Trout just to name a few.

Where should I throw the Drunk Mullet?
Try around Rip-rap, points, docks, in front of laydowns, over submerged vegetation, and along current seams.